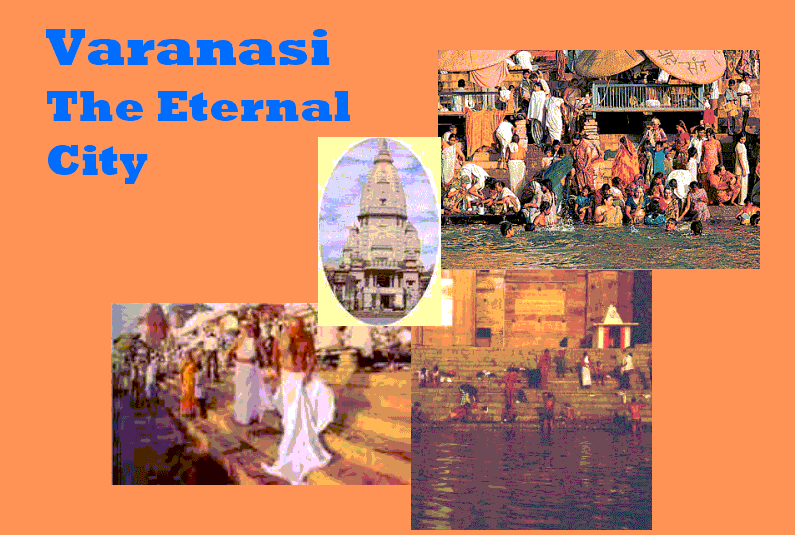 Varanasi, one of the oldest living cities of the world, is situated on the north bank of Ganga and is located midway between Delhi and Calcutta. it is known as the religious and cultural capital of India. Its known history dates back to about 3500 hundred years, during which it has continuously been populated. However, Hindus believe that the city is eternal. Varanasi has also been known as Kashi and Benares, but its present name is restoration of an ancient name meaning the city between two rivers - the Varuna and Asi. For the pious Hindu the city has always had a special place.
Varanasi is one of the largest cities in the state of Uttar Pradesh. Products of the city include shawls, saris, gold-embroidered cloth, hand-hammered brassware, and heavy gold and silver jewellery. Varanasi is especially known for its fine silk fabrics. It is also home to the Diesel Locomotive Works of Indian Railways, one of the largest locomotive manufacturing plants in the World.
The Ganges or the Ganga River is one of the greatest attractions of Varanasi. Devout Hindus make pilgrimages from all parts of India to bathe in the Ganges, whose water they believe to be sacred. Along the river, stairways have been set-up, known as ghats, from which people can bathe before saying their daily prayers. Every year, over a million pilgrims visit the city. Varanasi is also known for its large temples and its monasteries and palaces.
The city is also a seat of learning. It has several universities and colleges teaching varied subjects from engineering and medicine to dance and music. Banaras Hindu University, a university of world repute, is situated here.
Sarnath, the place where Buddha delivered his first sermon after attaining enlightenment, is just a few kilometers away. The Stupa, a Buddhist Monument, erected by King Ashok in the third century BC is still a major attraction for Buddhist Pilgrims from all over the world.
Excursions in and around Varanasi

For More Information Contact:

SANKAT MCHAN FOUNDATION
Tulsi Ghat, Varanasi - 221 005, INDIA
Tel: +91(542)313884
FAX: +91(542)314278
Internet: vbmishra@altavista.net